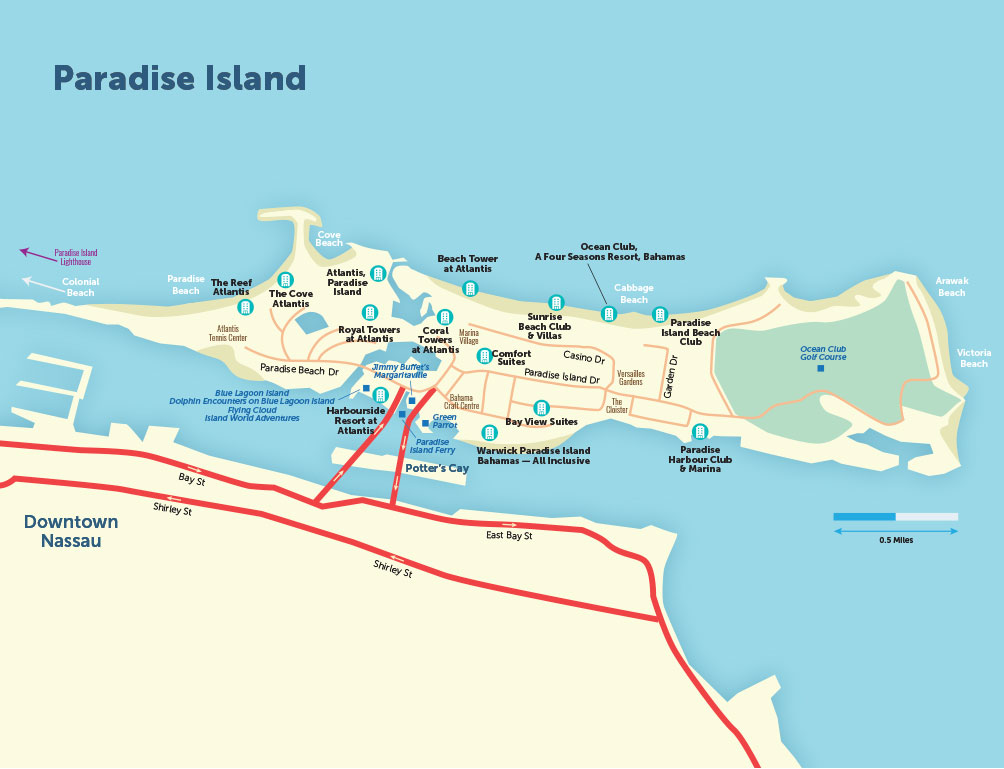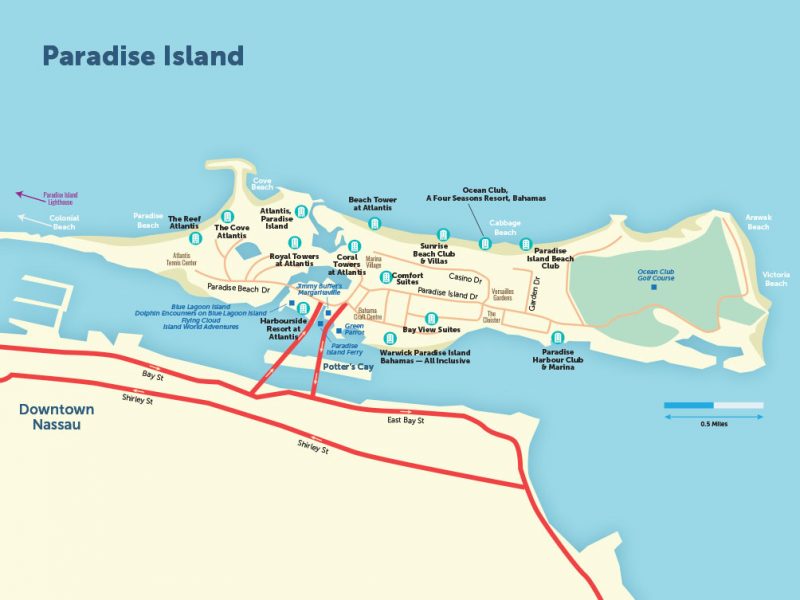 Paradise Island
Paradise Island lies to the north of Nassau and is connected to the country's capital by two 600 foot long arched bridges. Until 1962 the island was largely undeveloped and known as Hog Island, A&P heir Huntington Hartford changed the name when he built the island's first resort complex. From quiet and secluded beachfront properties to some of the most dazzling resorts spreading across 685 acres, Paradise Island residents and visitors enjoy the stunning views of white sandy beaches, turquoise waters and beautiful blue skies while enjoying plenty of actives and amenities available.
Just like the name says, the island is a paradise for beach lovers, boaters, and fun seekers. This is the place to be for anyone who loves the sun, sand and sea. With beautiful beaches and miles of powdery white sand, 300 days  of sunshine a year and water temperatures averaging 80 degrees, there's almost always a gorgeous day of sun and fun waiting for you on Paradise Island. Walk through the calm, shallow waters, snorkel right from the beach, or explore the colorful coral reefs teeming with tropical fish.
Back in  1994 South African developer Sol Kerzner transformed the existing high-rise hotel into the world renown resort Atlantis where today visitors can enjoy the unbelievably exciting waterpark, dolphin cay, spas, golf, several resort pools and beaches. Despite the significant number of visitor at any given moment who enjoy the nearby hotels and resorts,  you can still find yourself a quiet spot on Cabbage Beach, which lines the northern side of the island, or on the more secluded Paradise Beach west of Atlantis.  Water sports are available near the resorts, and there are two public access paths. Several gorgeous yet less known beaches such as Honeymoon Cove and Smugglers Beach are waiting for anyone wants to escape the crowd and enjoy a few moment in complete tranquility.
Paradise Island is a home to multimillion-dollar single homes and condominium developments. Among those is the Ocean Club Estates, a luxury, elegant and incredibly sophisticated community developed by Kerzner International nearby Ocean Club. This development alone has 22 single family homes and well as 88 residential condominiums. Not to be overlooked, many older properties are receiving upgrades and  can generate excellent returns on the short-term vacation rental market.  There is surely a wide variety of options available for a primary or second home on Paradise Island.
If you wish to explore the options available, you are best to Contact US and we will be your guide to  find your place of paradise.
Listings in Paradise Island